these are a few of my favorite things
This is  from the fugitive blogspot Library Vixen posted 5/14/09. I like the list, it seems the mix of-slut, sweetness, never going to happen, daydreamer I am. Lately I have been in this sexual, I guess self imposed, dry spell–and this list made me sort of realize why–because I want this, I want more–I want sex with meaning behind it. The random cock for cocks sake–has been leaving me blue and dissatisfied, although, you all are probably pretty tiered of hearing the "I fuck myself stories." I'll get some cock soon, don't worry.
The List
Waking up with you. The way your hand lays heavy across my belly when we wake from drifting in and out of sleep
Kissing. The way you lips feel on the back of my neck, as they work their way to my moist lips. The way your arms wrap around me as our lips meet and linger

Smiling. My everyday smile is good, but my devilish, come fuck me, I think I love you, dangerously cute intoxicating smile is even better
Flirting. I love to flirt, with everyone; I am an equal opportunity flirt. I can make the meanest, grumpiest asshole melt, with flirt
Smell. I love the way I smell when I get aroused, I can feel myself begin to fill with that love slick, then I can smell it, with each step smelling that I need to be fucked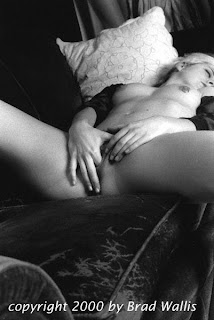 d
Taste. I like the way I taste, when I fuck myself I taste myself, when I fuck you I taste myself, on your fingers, on your cock, on your lips
Grinding. The slow grind on your two finger as you nearly lift my ass and pussy when fucking me that turns into a slow grind on your cock
Onanism. I fuck myself all the time, perhaps even chronically. It just feels so good, the way my liquid forms and my clit blooms between my pages
Restraints. The way you pull my arms behind my back when you are about the enter me from behind, the restraint without restraints
Spank. I like the way your hand gives me those firm swats I need, leaving my ass red–not too many, but just enough
Imagery. I like porno, all kinds, dirty filthy, sugary slick, stills, live action, erotica, not so erotica, frill, trashy
Photographing.  I like taking pictures of my ass (covered and uncovered, in lace, in net, in barely there), my kitty (covered and uncovered), my thighs, my tits–concealed and revealed.
Watching. I like to watch you stroke, to cum for me, while I cum for you
Worship. I love love love a good solid cock choking me in the most loving of ways. It may be your hand tangled in my hair, maybe you stand above me and enter my mouth like you would my cunt, or a firm grip to the back of my head, a belt wrapped around my throat leading the way, so many possibilities. My lips parting in anticipation, the way our bodies adjust to being plugged into one another, creating fuck electricity
When I woke up this morning, I was thinking about my past lover, the Ganster, he was rough. When we fell in love–I moved him, melted him, my love melted him. When we first met, he was so lost, he had no concept of love, standing in my kitchen together, pinning me to the sink–wanting me, he would not know what to do with his arms, his hands, he had no idea they were supposed to be wrapped around my body, it was as though he had never held a woman in his arms. I would have to physically place his arms around me–then t hat roughness would disappear, replaced with pure and true– and we fucked like two lost stones who finally found each other in the city that nearly ate him alive. He was one of those men who never fucked with meaning–before me he fucked only with cock. I like to be fucked, plowed, ground, handled, and ravaged with meaning.
&copy Copyright 2009
Library Vixen
, All rights Reserved. Written For:
Library Vixen